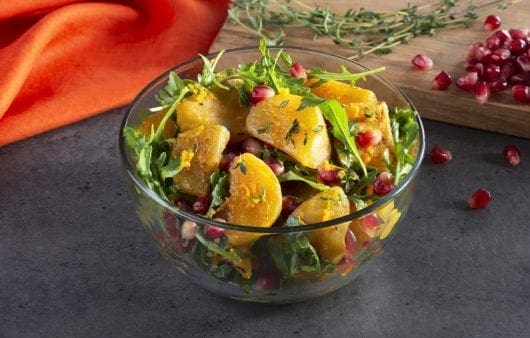 Packed with flavour, this colourful beet and arugula salad is sure to please.
Ingredients:
1 pkg (300 g)Lou's Kitchen Golden Beets
1 tsp (5 mL) orange zest
1/4 cup (60 mL) orange juice
1 tbsp (15 mL) honey
2 tsp (10 mL) finely chopped fresh thyme
1/4 tsp (1 mL) each salt and pepper
3 cups (750 mL) baby arugula
1 apple, cut into 1-inch (2.5 cm) wedges
1/3 cup (75 mL) pomegranate seeds
Instructions:
Preheat oven to 425˚F (220˚C). Toss together Golden Beets, orange zest, orange juice, honey, thyme, salt and pepper.
Transfer to oven-safe baking pan; wrap in double layer of foil and seal package tightly.
Bake for 10 to 15 minutes or until heated through. Let stand for 2 minutes; open carefully with oven mitts. Reserve 1/4 cup (60 mL) cooking juice from pan.
Toss together reserved cooking juice, Golden Beets, arugula, apple and pomegranate seeds.
Tips:
Substitute pear or avocado for apple if desired.
Nutrition Facts Per 1/4 recipe
| | |
| --- | --- |
| Calories | 65 |
| Fat | 0g |
| Saturated Fat | 0g |
| Cholesterol | 0mg |
| Sodium | 215mg |
| Carbohydrate | 15.5g |
| Fibre | 3.5g |
| Sugars | 11.5g |
| Protein | 2.5g |