tender
Living in the moment doesn't mean every moment has to be spent in the kitchen!
slow-roasted
Our meaty pork ribs are made with old fashioned goodness, slow roasted for hours to produce maximum tenderness and then basted with rich barbecue sauce for a tangy, rich flavour
Simply heat and serve and spend your time enjoying a delicious meal with your family and guests. Bon appétit!

Fully cooked, keep refrigerated. 8-10 minutes
Medium-High Heat (190-200 °C/375-400 °F)
Preheat grill (gas or charcoal) to 375 – 400 °F/ 190 – 200°C (Medium / High Heat)
Remove ribs from the box and plastic package and retain any sauce for basting.
Place ribs on the grill, bone side down. Baste with BBQ Sauce.
Cook for 8-10 minutes, turning once at mid-point and baste with remaining BBQ Sauce.
* For best results, heat on the barbecue/grill. Ensure ribs and sauce are thoroughly heated (175 °F/74 °C) before serving. Since appliances vary, heating instructions are guidelines only.
OVEN/CONVECTION OVEN HOT AIR
15-20 minutes
400 °F / 200 °C
Preheat oven at 400oF/200oC.
Remove ribs from box and plastic packaging and retain any sauce for basting.
Place ribs on a baking tray, bone side down. Baste with BBQ sauce.
Place tray in the middle of the oven for 15-20 minutes, basting with bbq sauce at mid-point of cooking time.
ingredients
ingredients
EXCELLENT SOURCE
OF PROTEIN
GLUTEN FREE
SOURCE
OF IRON
INGREDIENTS
Pork back ribs. Sauce: water, sugar, tomato paste, cider vinegar, malt vinegar (barley), white vinegar, blackstrap molasses, modified cornstarch, hydrolysed soy protein, honey, salt, caramel, spice extracts, spices, garlic powder, natural flavour, onion powder, sodium benzoate, dextrose, potassium sorbate, sodium propionate. Seasoning: Sugar, fructose, modified corn starch, tomato powder, sodium phosphate, maltodextrin, caramel, salt, molasses solids, lactic acid (calcium lactate), citric acid, canola oil, smoke flavour. Contains Soy, Gluten.
Where to Buy
Ready to get busy with Lou's Kitchen? Make your own culinary statement with our premium dishes and entrees available from these fine retailers. (Just click on the logo to find your nearest product or store locator.)
Chef Tips
Once re-heated, place the rack on the hottest part of the grill and carefully char one side, adding visual appeal and another layer of flavour. Make sure to use tongs with the longest handles!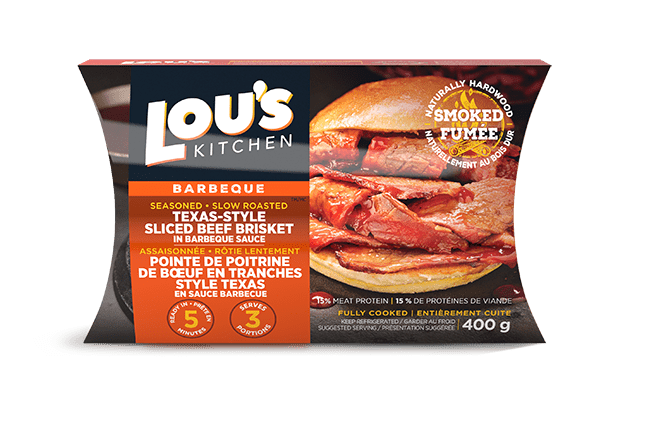 We're very hands-on when it comes to ensuring our roasts and cooked to perfection. Every roast is hand-trimmed and checked to ensure the marbling is perfect. We leave just enough fat on to let it flavour and crisp up the outside.