Sous vide
Our carrots are hand cut fresh, bagged with no additives, salt or seasonings and delicately steamed for about an hour to preserve all the bright flavours and nutrients. Just heat them up and enjoy.
steamed
Sous vide cooking seals in all the natural juices and flavours, cooked just enough so that you'll finish the process at home, ensuing your veggies are tender, crisp and delicious!

Steam cooked, keep refrigerated. Heat skillet to Medium-High with some butter or vegetable oil.
Heat Carrots, stirring often for 3 minutes, cover for 2 more minutes.
Serve.
OVEN/CONVECTION OVEN HOT AIR
Preheat oven to 450°F (230°C).
Place Carrots on baking sheet. Lightly sprinkle with vegetable oil.
Bake 8 minutes, turning halfway, until golden brown.
Serve.
Place Carrots in microwaveable dish.
Cover and heat on HIGH for 3 minutes.
Serve.
ingredients
ingredients
NO
PRESERVATIVES
GLUTEN FREE
LOW IN
SODIUM
Where to Buy
Ready to get busy with Lou's Kitchen? Make your own culinary statement with our premium dishes and entrees available from these fine retailers. (Just click on the logo to find your nearest product or store locator.)
Moroccan Roasted Carrots
with Feta and
Pistachios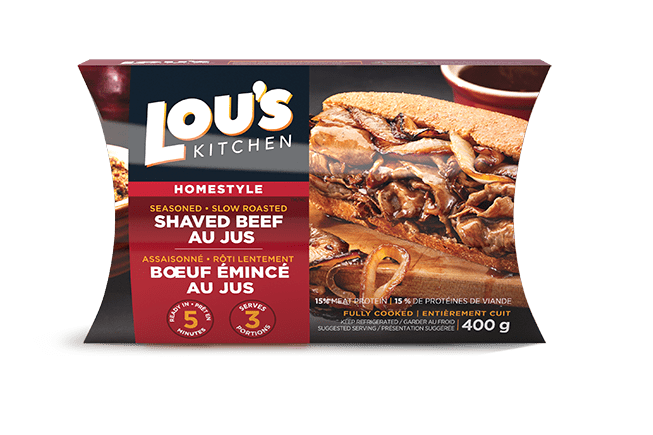 There's nothing better than our tender beef, slow-roasted in its own juices, then sliced wafer-thin for your dining pleasure.