tender
We've taken our award-winning Pork Back Ribs and added a special seasoning blend with a smoky marinade to create a NEW Authentic Dry Rub Pork Back Rib.
slow-roasted
Hand rubbed and slow cooked for hours by our experts, these ribs are always tender and the tangy flavour brings out the most in our succulent ribs.
The great thing is, you don't have to wait long to enjoy this irresistibly Canadian slow roasted deliciousness. Simply heat, serve and enjoy. And no saucy mess to clean up.

Fully cooked, keep refrigerated. Preheat grill to Medium-High. Place Pork Back Ribs on grill.
Grill for 12-15 minutes. After half of the time, turn over ribs.
Serve.
OVEN/CONVECTION OVEN HOT AIR
Preheat oven to 375°F (190°C).
Place Pork Back Ribs on foil-lined baking sheet.
Bake 20-22 minutes. After half of the time, turn over ribs.
Serve.
Place Pork Back Ribs in microwaveable dish, cut if necessary.
Cover and heat on HIGH for 4-5 minutes.
Serve.
ingredients
ingredients
EXCELLENT SOURCE
OF PROTEIN
GLUTEN FREE
SOURCE OF
IRON
INGREDIENTS
Pork, Seasoning: Water, Sugars (maltodextrin, sugar, fructose, glucose solids, molasses solids, dextrose), Dehydrated vegetables (garlic, onion, tomato powder), Modified corn starch, Salt, Sodium phosphate, Irradiated spices (contains mustard), Caramel, Citric acid, Lactic acid (calcium lactate), Vegetable oil (canola), Xanthan gum, Smoke flavour. Contains: Mustard.
Where to Buy
Ready to get busy with Lou's Kitchen? Make your own culinary statement with our premium dishes and entrees available from these fine retailers. (Just click on the logo to find your nearest product or store locator.)
Chef Tips
Ensure your grill is hot and clean before cooking by pre-heating for at least 15 minutes. Remember to follow the directions to only "turn once" to void over handling!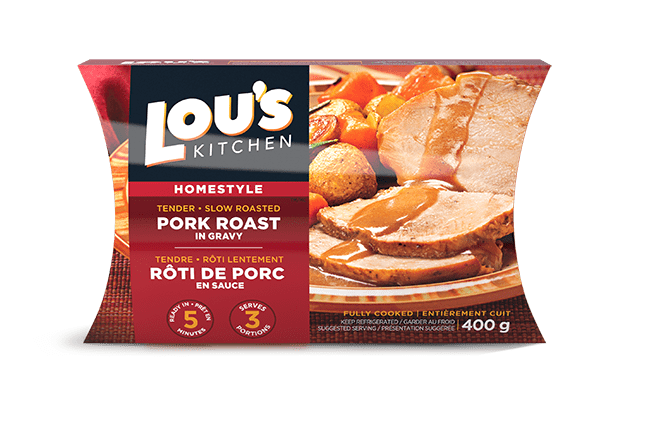 We're very hands-on when it comes to ensuring our roasts are cooked to perfection. Every roast is hand-trimmed and checked to ensure the marbling is perfect. We leave just enough fat on to let it flavour and crisp up the outside.