tender
Our award-winning hardwood smoked, tender Pork Side Ribs are slathered in a bold barbeque sauce and slow roasted to enhance flavour and tenderness.
slow-roasted
The difference between back and side ribs? Side ribs come from the belly…they have a little less meat and a bit more fat …so more flavour.
The great thing is, you don't have to wait long to enjoy them. Simply heat, serve and enjoy. Or toss on the grill until warm.

Fully cooked, keep refrigerated. Preheat grill to Medium-High. Place Pork Side Ribs on grill and baste with some of the reserved sauce.
Grill for 12-15 minutes. After half of the time, turn over ribs and baste with the remaining sauce.
Serve.
OVEN/CONVECTION OVEN HOT AIR
Preheat oven to 375°F (190°C).
Place Pork Side Ribs on foil-lined baking sheet and baste with some of the reserved sauce.
Bake 20-22 minutes. After half of the time, turn over ribs and baste with the remaining sauce.
Serve.
Place Pork Side Ribs in microwaveable dish, cut if necessary, and baste with reserved sauce.
Cover and heat on HIGH for 4-5 minutes.
Serve.
ingredients
ingredients
EXCELLENT SOURCE
OF PROTEIN
GLUTEN FREE
SOURCE OF
IRON
INGREDIENTS
Pork, Sauce:Sugars (sugar, glucose, corn syrup solids, passion fruit puree, blackstrap molasses,dextrose), White vinegar, Tomato paste,Modified corn starch, Salt, Natural flavour, Spices, Dehydrated garlic and onion, Hydrolyzed soy protein, Concentrated lemonjuice, Canola oil, Mustard, Citric acid, Xanthan gum, Tamarind extract, Spice extractives, Caramel colour, Dehydrated red and green bell peppers, Seasoning: Water, Modified potato starch, Sugars (brown sugar, corn maltodextrin, glucose solids, dextrose), Soy protein concentrate, Salt, Sodiumphosphate, Flavour, Spices (contains mustard),Silicondioxide, Polysorbate 80, Canola oil, Dehydrated vegetables (garlic, onion, tomato powder),Cornstarch, Citric acid, Caramelcolour, Xanthan gum, Smoke.Contains: Mustard, Soy
Where to Buy
Ready to get busy with Lou's Kitchen? Make your own culinary statement with our premium dishes and entrees available from these fine retailers. (Just click on the logo to find your nearest product or store locator.)
Chef Tips
For a crispier experience, chop the ribs into smaller pieces before pan frying. Season with garlic salt and black pepper. Awesome as an appetizer.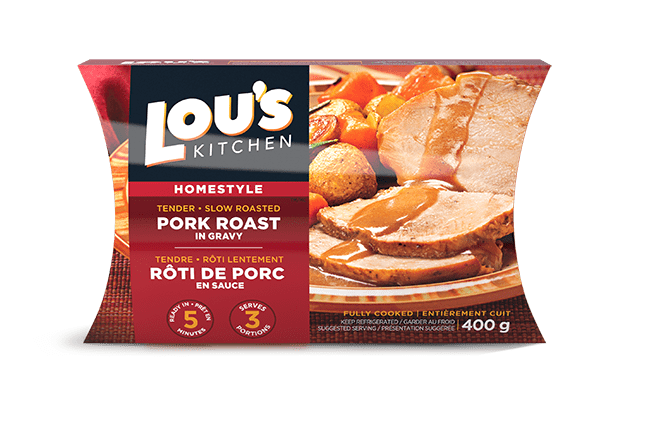 We're very hands-on when it comes to ensuring our roasts are cooked to perfection. Every roast is hand-trimmed and checked to ensure the marbling is perfect. We leave just enough fat on to let it flavour and crisp up the outside.