Slow roasted
Made at the same fiesta as our shredded beef, our shredded pork is slow roasted and perfectly tender. Specially spiced with our Mexican style seasoning, it's crafted to go deliciously with nachos, burritos or tacos
Delicious
Whatever you and your familia are craving, make sure you top it with the peppers, onions, corn and salsa that's included with each meal.

Fully cooked, keep refrigerated. Cut off a small corner from pork pouch to vent. Microwave* on HIGH in a microwaveable dish for 2 minutes to loosen contents. Do not drain pork juices.
Heat a pan with 2 tbsp (30mL) of cooking oil. Open pork pouch and pour contents into the pan (caution: contents may be hot). Use tongs or two forks to separate pork.
Before adding seasoning to the pan, mix seasoning with 1/3 cup (80mL) of water. Then, combine seasoning mixture with pork and let simmer for 5 minutes or until minimum internal temperature of 160°F (71°C). Stir occasionally.
Cut off a small corner from vegetable pouch and drain excess liquid. Heat a pan with 1 tbsp (15mL) of cooking oil. Pour vegetables into a pan and heat for 3 minutes, stirring occasionally. (Option to combine vegetables with pork in the same pan).
Spoon shredded pork in taco shell, garnish with heated vegetables.
Serve with salsa (included).
*Substitute for microwave: place sealed pouches in pot and cover with water, bring to a rolling simmer and heat on the stovetop for 2-3 minutes.
ingredients
ingredients
EXCELLENT SOURCE
OF PROTEIN
GLUTEN FREE
GOOD
HEALTH
INGREDIENTS
Seasoned pork (pork, water, salt, spices, sugar, sodium erythorbate, sodium nitrite, garlic powder, onion powder, smoke), Vegetable blend (green peppers, onions, corn, red peppers), Salsa [tomatoes (tomatoes, tomato juice, citric acid, calcium chloride), water, tomato paste, onions, vinegar, red bell peppers, green bell peppers, salt , jalapeño peppers, modified corn starch, dried garlic, onion powder, spices, herbs, citric acid], Mexican seasoning [spice, salt, corn starch, sugars (sugar, maltodextrin), onion powder, yeast extract, citric acid, garlic powder, vegetable oil (canola), flavour, onion extract].
Where to Buy
Ready to get busy with Lou's Kitchen? Make your own culinary statement with our premium dishes and entrees available from these fine retailers. (Just click on the logo to find your nearest product or store locator.)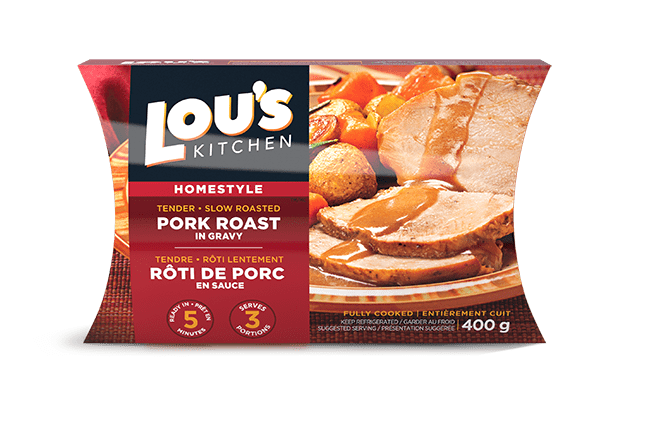 We're very hands-on when it comes to ensuring our roasts are cooked to perfection. Every roast is hand-trimmed and checked to ensure the marbling is perfect. We leave just enough fat on to let it flavour and crisp up the outside.