Slow roasted
Our boneless pork loin chops are slow cooked until wonderfully tender, then slathered with a delicious caramelized apple onion glaze.
Tender
All you have to do is place them in a hot skillet for two to three minutes per side, pour on the sweet glaze and serve them up to your hungry family.
Will they love it? Will they love you for preparing it? Of course. But their mouths will be too full to say anything right away.

Fully cooked, keep refrigerated. Remove Pork Chops from the packaging. Heat a skillet with 2 tsp. of vegetable oil.
Pan fry for 2-3 minutes on each side turning once.
Baste with glaze from pouch for the last 30 seconds.
Serve.
OVEN/CONVECTION OVEN HOT AIR
Remove from pouch and place Pork Chops flat on a baking sheet.
Bake for 8-10 minutes. Baste with the glaze from the sachet for the last 2 minutes.
Serve.
Remove from pouch and lay Pork Chops flat on a microwaveable plate, cover loosely.
Cook on full power for 2.5 minutes.
Remove cover, baste with glaze from the sachet and cook on full power for 20 seconds.
Serve.
Caution:  Product will be hot. Handle with care.
ingredients
ingredients
SOURCE OF IRON
AND POTASSIUM
EXCELLENT SOURCE
OF PROTEIN
Gluten Free
INGREDIENTS
Pork Chop: Pork, Water, Tapioca starch, Glucose solids, Salt, Sodium phosphate.
Glaze: Sugars (glucose (sulphites), sugar, concentrated apple juice, brown sugar), Vinegar, Onions, Soybean oil, Onion powder, Dried onion, Natural flavour, Xanthan gum, Citric acid, Sodium benzoate, Potassium sorbate.
Where to Buy
Ready to get busy with Lou's Kitchen? Make your own culinary statement with our premium dishes and entrees available from these fine retailers. (Just click on the logo to find your nearest product or store locator.)
Chef Tips
To switch up the taste, add chopped mint, smoked paprika or cinnamon to the glaze.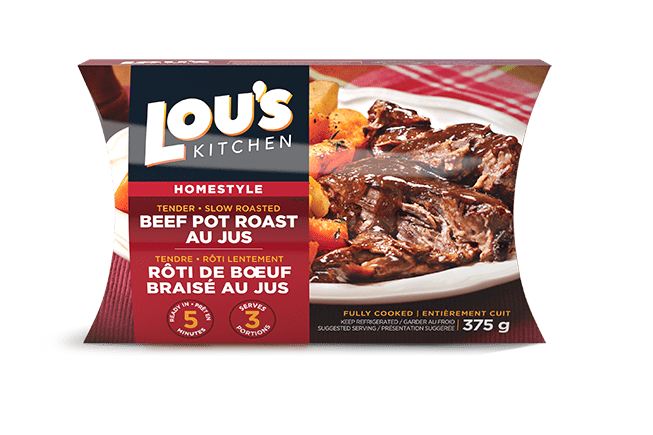 We're very hands-on when it comes to ensuring our roasts are cooked to perfection. Every roast is hand-trimmed and checked to ensure the marbling is perfect. We leave just enough fat on to let it flavour and crisp up the outside.