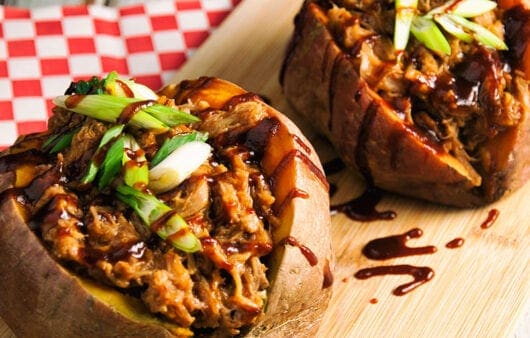 Ingredients:
4 large baking potatoes
½ cup finely chopped green onion
1 package Lou's Kitchen Pulled Pork
½ cup milk
¼ cup butter
¼ tsp ground black pepper
1 pinch salt to taste
¾ cup shredded Cheddar cheese
Instructions:
Preheat oven to 350 degrees F (175 degrees C).
Scrub potatoes, pierce several times with a fork, and place on microwave-safe plate. Cook potatoes on High in microwave 5 minutes; turn over and cook until soft, about 5 minutes more. Cut lengthwise. Scoop potato flesh into a bowl; reserve potato skins.
In a saucepan over medium heat, add milk, butter, pepper, and salt; stir in potato flesh and 1/2 cup of Cheddar cheese. Cook and stir, breaking up potato and mashing lightly, until milk is absorbed, about 5 minutes.
Remove pan from heat; pile potato mixture into potato skins and place stuffed potatoes in a baking dish. Sprinkle potatoes with remaining Cheddar cheese.
Bake in the preheated oven until cheese is bubbly and potatoes are heated through, about 25 minutes. Meanwhile heat and prepare Lou's Kitchen Pulled Pork according to directions on package.
Remove potatoes from oven and serve with Lou's Kitchen Pulled Pork on top.