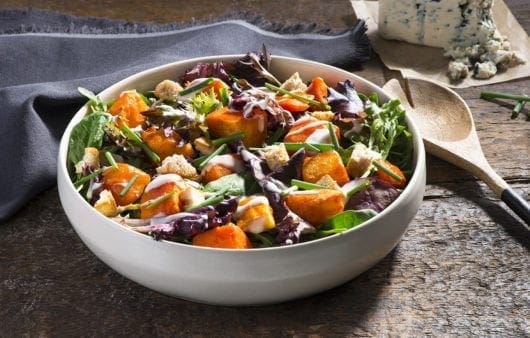 Quick and easy, this warm salad with spicy roasted veggies makes a hearty and satisfying main or side dish.
Ingredients:
1 pkg (375 g) Lou's Kitchen Harvest Veggies
2 tbsp (30 mL) olive oil
2 tbsp (30 mL) prepared Buffalo wing sauce
4 cups (1 L) mixed greens
1/4 cup (60 mL) prepared blue cheese or ranch dressing
2 tbsp (30 mL) toasted fresh bread crumbs
1 tbsp (15 mL) finely chopped fresh chives
Instructions:
Preheat oven to 425˚F (220˚C). Toss together Harvest Medley, oil and Buffalo sauce; arrange in single layer on baking sheet.
Bake, turning halfway through, for 10 to 15 minutes or until golden brown and heated through.
Serve over a bed of mixed greens. Drizzle with dressing; sprinkle with bread crumbs and chives.
Tips:
Add grilled chicken or shrimp to salad if desired. For a meatless option, stir in chickpeas or lentils.
To toast bread crumbs, toss in a dry pan set over medium heat for 2 to 3 minutes or until golden brown.
Substitute croutons for bread crumbs if desired.
Nutrition Facts Per 1/4 recipe
| | |
| --- | --- |
| Calories | 175 |
| Fat | 14g |
| Saturated Fat | 2g |
| Cholesterol | 5mg |
| Sodium | 425mg |
| Carbohydrate | 13.5g |
| Fibre | 3.5g |
| Sugars | 5.5g |
| Protein | 2g |