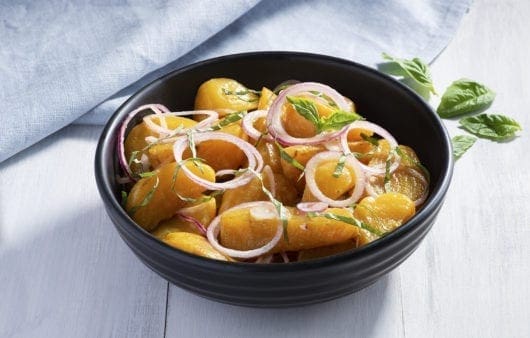 Tossed with a sweet and tangy white balsamic vinaigrette, these yummy beets make a quick and easy lunch served over a bed of arugula, spinach or mixed baby greens.
Ingredients:
1 1/2 cups (375 mL) prepared Thai red curry sauce
1 pkg (300 g)Lou's Kitchen Golden Beets
1/4 cup (60 mL) white balsamic vinegar
1 tbsp (15 mL) olive oil
1 tbsp (15 mL) Dijon mustard
1/4 cup (60 mL) thinly sliced red onion
1/4 cup (60 mL) thinly sliced fresh basil
Instructions:
Place Golden Beets in microwave-safe dish with 2 tbsp (30 mL) of water. Cover and microwave on High for 3 to 5 minutes or until heated through.
Meanwhile, whisk together vinegar, oil and mustard; toss with Golden Beets and red onion. Sprinkle with basil. Serve warm or cold.
Tips:
Sprinkle with crumbled goat cheese if desired.
Nutrition Facts Per 1/4 recipe
| | |
| --- | --- |
| Calories | 75 |
| Fat | 3.5g |
| Saturated Fat | 0.5g |
| Cholesterol | 0mg |
| Sodium | 155mg |
| Carbohydrate | 9.5g |
| Fibre | 3g |
| Sugars | 5.5g |
| Protein | 2g |