sweet
Sorry. This sweet yet smoky Applewood Back Bacon will be sure to be the "Pick of the Crop," but it's not really fruit. Nice try.
savoury
The unique flavour and aroma is crafted by smoking our hand-trimmed Back Bacon with a hint of Applewood to deliver a delicately smokey and satisfying taste.
With 85% less fat than regular side bacon, there's no better way to start your day.
Uncooked, keep refrigerated. Cook slices over medium heat on lightly oiled cooking surface.
1 minute per side, turning over once.
Serve.
Preheat grill.
Cook slices over medium heat, 1 minute per side, turning over once.
Serve.
Open package and place desired slices on microwave safe plate to heat
Heat on HIGH for 1-1.5 minutes.
Serve.
ingredients
ingredients
85% LESS FAT
THAN SIDE BACON
NATURALLY
SMOKED
GLUTEN FREE

INGREDIENTS
Pork, water, salt, tapioca starch, sugar, sodium phosphate, sodium ascorbate, sodium erythorbate, sodium nitrite, spices, potassium lactate, sodium diacetate, naturally smoked. With Natural Applewood smoke flavour.
Where to Buy
Ready to get busy with Lou's Kitchen? Make your own culinary statement with our premium dishes and entrees available from these fine retailers. (Just click on the logo to find your nearest product or store locator.)
Chef Tips
Get Wrapping! Any meat (and some shellfish) benefits from being wrapped in bacon while its cooking , protecting it from drying out and adding another layer of flavour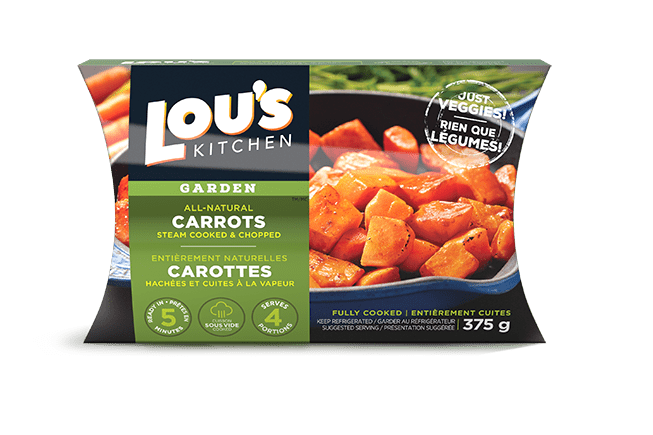 We cook our vegetables sous-vide style - precision steam-cooked in the pouch to seal in all the natural flavours and nutrition.