Juicy
The ultimate comfort meal, just like Mom used to make. Maybe better (but don't tell her that.)
tender
You can take comfort in our perfectly seasoned cut of beef, slow-roasted in our ovens, served in a delicious gravy that makes this pot roast a traditional family favourite. Or soon to be, anyway.
At Lou's, we took the time so you don't have to. Simply heat, serve and enjoy.

Fully cooked, keep refrigerated. OVEN/CONVECTION OVEN HOT AIR (RECOMMENDED)
Preheat oven to 325°F (160°C).
Remove from pouch and place Beef in a oven proof dish and cover.
Bake for 20-25 minutes to a minimum internal temperature of 140°F (60°C)
Serve.
Remove pouch from outer packaging.
Place pouch into a pot and cover with water.
Bring the water to a boil and turn down to a gentle simmer for 15 minutes to reach a minimum internal temperature of 140°F (60°C).
Serve.
Remove from pouch and place Beef in a microwaveable bowl.
Cover and heat on HIGH for 5 minutes.
Serve.
ingredients
ingredients
HIGH IN
IRON
EXCELLENT SOURCE
OF PROTEIN
GLUTEN
FREE
INGREDIENTS
Beef, Water, Modified corn starch, Hydrolyzed soy protein, Sugars (maltodextrin, sugar), Onion powder, Salt, Yeast extract, Caramel, Spice, Guar gum, Disodium inosinate, Disodium guanylate, Vegetable oil (sunflower), Silicon dioxide. Contains: Soy.
Where to Buy
Ready to get busy with Lou's Kitchen? Make your own culinary statement with our premium dishes and entrees available from these fine retailers. (Just click on the logo to find your nearest product or store locator.)
Chef Tips
For a French-inspired eating experience, heat in a casserole dish with Lou's Harvest Veggies and half a glass of your favourite red wine.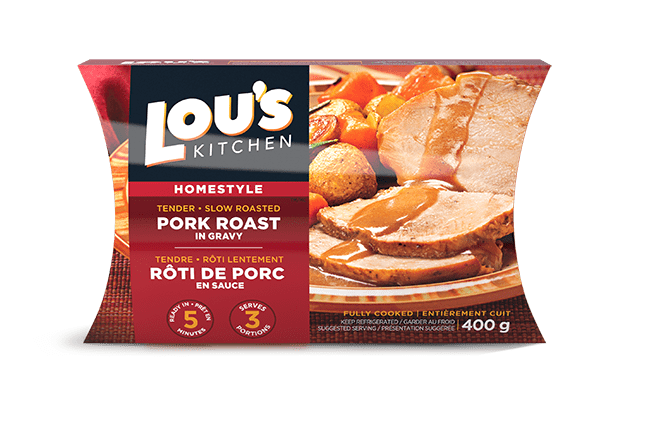 We're very hands-on when it comes to ensuring our roasts are cooked to perfection. Every roast is hand-trimmed and checked to ensure the marbling is perfect. We leave just enough fat on to let it flavour and crisp up the outside.