Slow roasted
Creating a classic old school Philly-Style sandwich has never been easier. Our authentic Philly-style sauce features hits of onion and green bell peppers.
tender
To be authentic, cheesesteak, just add in your favourite cheese. Looking for something new? Use it to make delicious tacos, as a tasty topping on flatbread or in a rice bowl.
Savour the wholesome slow-roasted goodness in minutes without the mess. Simply heat for 5 minutes and enjoy!

Fully cooked, keep refrigerated. OVEN/CONVECTION OVEN HOT AIR (RECOMMENDED)
Preheat oven to 325°F (160°C).
Remove from pouch and place Pork in a oven proof dish and cover.
Bake for 20-25 minutes to a minimum internal temperature of 140°F (60°C)
Serve.
Remove pouch from outer packaging.
Place pouch into a pot and cover with water.
Bring the water to a boil and turn down to a gentle simmer for 15 minutes to reach a minimum internal temperature of 140°F (60°C).
Serve.
Remove from pouch and place Pork in a microwaveable bowl.
Cover and heat on HIGH for 5 minutes.
Serve.
ingredients
ingredients
SOURCE OF
IRON
EXCELLENT SOURCE
OF PROTEIN
Gluten Free
INGREDIENTS
Beef, Sauce: Water, Modified corn starch, Onion powder, Salt, Sugars (sugar, maltodextrin), Dehydrated red and green bell peppers, Hydrolyzed soy protein, Yeast extract, Natural flavour, Caramel, Guar gum, Disodium inosinate, Disodium guanylate, Citric acid, Phosphoric acid, Potassium sorbate, Sodium benzoate, Seasoning: Water, Glucose solids, Hydrolyzed soy protein, Potassium chloride, Salt, Sodium phosphate, Flavour, Spices, Calcium silicate, Polysorbate 80. Contains: Soy
Where to Buy
Ready to get busy with Lou's Kitchen? Make your own culinary statement with our premium dishes and entrees available from these fine retailers. (Just click on the logo to find your nearest product or store locator.)
Shaved Philly Steak Lettuce Wraps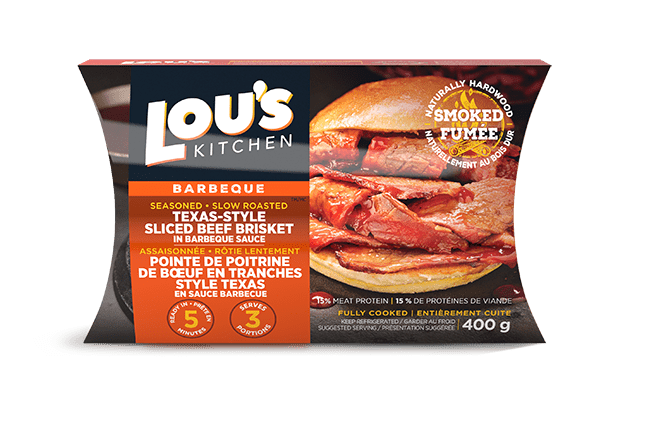 We're very hands-on when it comes to ensuring our roasts and cooked to perfection. Every roast is hand-trimmed and checked to ensure the marbling is perfect. We leave just enough fat on to let it flavour and crisp up the outside.