Smokey
From the heart of Texas comes our seasoned and smoky brisket, slow-roasted for hours over natural hardwood, then marinate it in our bold barbeque sauce to give it a unique kick.
Juicy
Texas-style taste in a New York minute. (Okay, 20.) Simply heat, serve and enjoy. This hearty slow-roasted beef is tender with an irresistible taste your whole posse will love.
At Lou's, we take the time, so you don't have to.

Fully cooked, keep refrigerated. OVEN/CONVECTION OVEN HOT AIR (RECOMMENDED)
Preheat oven to 325°F (160°C).
Remove from pouch and place Brisket in a oven proof dish and cover.
Bake for 20-25 minutes to a minimum internal temperature of 140°F (60°C)
Serve.
Place pouch into a pot and cover with water.
Bring the water to a boil and turn down to a gentle simmer for 15 minutes to reach a minimum internal temperature of 140°F (60°C).
Serve.
Remove from pouch and place Brisket in a microwaveable bowl.
Cover and heat on HIGH for 5 minutes.
Serve.
ingredients
ingredients
SOURCE OF
POTASSIUM
EXCELLENT SOURCE
OF PROTEIN
Gluten Free
INGREDIENTS
Beef, Sauce: Sugars (sugar, glucose, corn syrup solids, passion fruit puree, blackstrap molasses, dextrose), Water, White vinegar, Tomato paste, Modified corn starch, Salt, Natural flavour, Spices, Dehydrated garlic and onion, Hydrolyzed soyprotein, Concentrated lemon juice,Canola oil, Mustard, Citric acid, Xanthan gum, Potassium sorbate, Sodium benzoate, Tamarind extract, Spice extractives, Caramel colour, Dehydrated redand green bell peppers,Seasoning: Water, Sugars (glucose solids,sugar), Hydrolyzed soy protein, Potassium chloride, Salt, Sodium phosphate, Flavour, Spices, Calcium silicate, Poly sorbate 80, Sodium erythorbate, Sodium nitrite, Garlic, Onion, Smoke.Contains: Mustard, Soy
Where to Buy
Ready to get busy with Lou's Kitchen? Make your own culinary statement with our premium dishes and entrees available from these fine retailers. (Just click on the logo to find your nearest product or store locator.)
Chef Tips
For an adult audience, add a half-shot of bourbon before re-heating.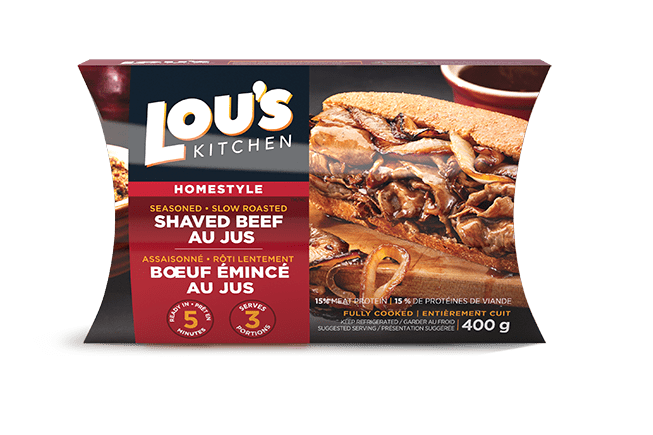 There's nothing better than our tender beef, slow-roasted in its own juices, then sliced wafer-thin for your dining pleasure.